More than 80 Years of Experience
Shade sails are a practical solution to cover spaces, making them more comfortable and protecting the occupants from atmospheric factors such as rain or sun.
At MOÑITA we offer this type of tensioning, especially indicated for individuals that allows shade to be provided in an elegant and affordable way. The Shade sails are tensile structures, made in waterproof fabric, openwork or with a certain elasticity, in a color to choose from, which allows for fresh spaces and prevents rain accumulations.
Contact Us Our specialists will be able to advise you to propose the best solution for your project. We have more than 80 years of experience in the manufacture of tarpaulins, awnings, marquees and textile architecture.
Leaders in Industrial Solutions
Trust in our good work, as thousands of satisfied customers have done with what we do.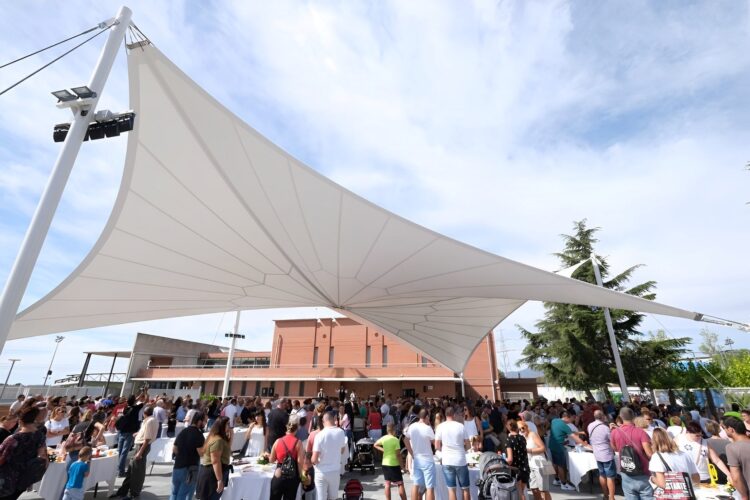 At MOÑITA we have designed, manufactured and installed a multitude of Shade sails in playgrounds or public squares and we are aware of their advantages and design particularities. They are usually used to cover small or medium-sized surfaces, normally no more than 100m2, usually supported on masts that can be free-standing or tied with metal straps. Microperforated or mesh-type membranes can be used when what is mainly pursued is sun protection or use waterproof membranes to also protect from rain.
In addition, in MOÑITA We sell another type of retractable rectangular shade sail, ideal for covering small spaces, up to 7m x 7m, in the garden or on the private terrace of the house. It is usually installed combined with a wind sensor.
If you have a project in mind, contact us, we will be happy to advise you.
In addition, at MOÑITA we offer other types of covers that are used on the roof and perimeter enclosure. They are covers designed to be assembled and disassembled easily and with little work, since they are disassembled very often. They are usually made in not very large pieces, easy to handle, which are joined together by watertight closures and flaps.