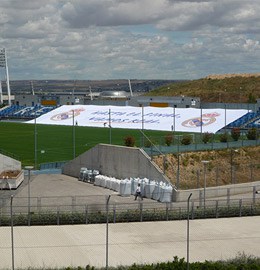 Printed tarpaulins
Printed tarpaulins
To produce the printed tarpaulins that we offer at MOÑITA, we apply the latest developments in digital printing to make top quality tarpaulins, making it possible to print onto a wide range of materials that we use, both flexible and rigid, for example, boards, tarpaulins, fabrics, canvas, vinyl, rigid PVC…
With these improvements we aim to offer optimal printing, with brighter colours, extra durability and less toxicity, since the UV inks that we use are free from lead, mercury and cadmium.
We also use direct printing with screen printing inks, which guarantees greater durability and resistance to external agents, ideal for making an outdoor sign or truck tarpaulins.
We have a design department in charge of the industrial production of our tarpaulins and textile covers. This department can provide advice on any textile architecture project that adapts best to your ideas.
Types of printed tarpaulins
With a view to meeting all of your requirements, at MOÑITA we offer the following types of printing:
Large-format printing on tarpaulin.
Printing on rigid materials (board, sign).
Installation of products that require it.
Personalisation on marquee tarpaulin.
Printing on vinyl.
Printing on truck tarpaulin and lettering on rigid vehicles, vans, cars, etc.
Send us an email to: info@monita.es to request info about the work we carry out in our company on printed tarpaulins.
Servicios al rotulista
Nuestra plantilla de rotulistas está especializada en trabajos de soldadura de alta frecuencia para la unión de paños, así como en las siguientes actividades:
Venta de lonas.
Soldadura por calor.
Confección y manipulación de las lonas de todos los tamaños.
Complementos para la instalación y tensión de grandes lonas.
Trabajar con grandes piezas textiles (nuestra nave de confección dispone de más de 1000 metros cuadrados diáfanos).
Asesoramiento al cliente ante problemas técnicos o de viabilidad de un proyecto, al igual que realización del montaje si lo precisara.
Suministro de carteles, rótulos, impresión digital, entre otros, si por necesidades de producción no los puede realizar el cliente.